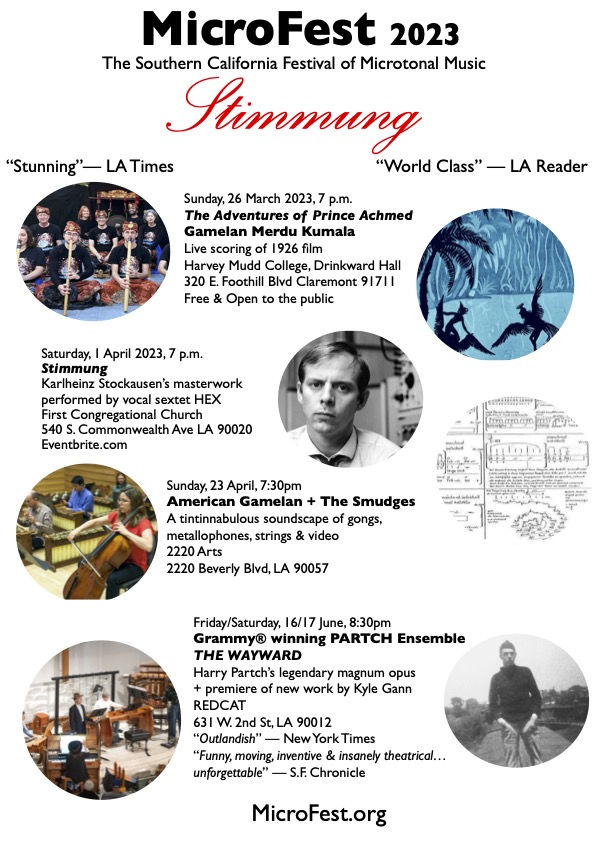 MicroFest 2022
LIVE !!
We're back, live, and on stage, with 5 thrilling concerts of notes-between-the-notes: World premieres, 20 th century classics, cross-cultural ragas & gamelan—it's going to be a great year to put on that
mask, have a seat, and open your ears [and the gray stuff in between them, too!].* But worry not! Micro•Moments live on, so stay tuned for
your monthly dose of magical microtones at MicroFest.org.
*Covid compliance for all concerts required
For Ben: America's Best Unknown Composer
Brightwork New Music joins forces with the Lyris String Quartet and soprano Stacey Fraser to present Ben Johnston's masterpieces Suite for Microtonal Piano, Quartet #4 (Amazing Grace) and the rarely heard Calamity Jane to Her Daughter & the exquisite clarinet solo Ponder Nothing.

Tuesdays@Monk Space, 8pm
4414 W. 2nd St (at Western Ave) LA 90004
GET TICKETS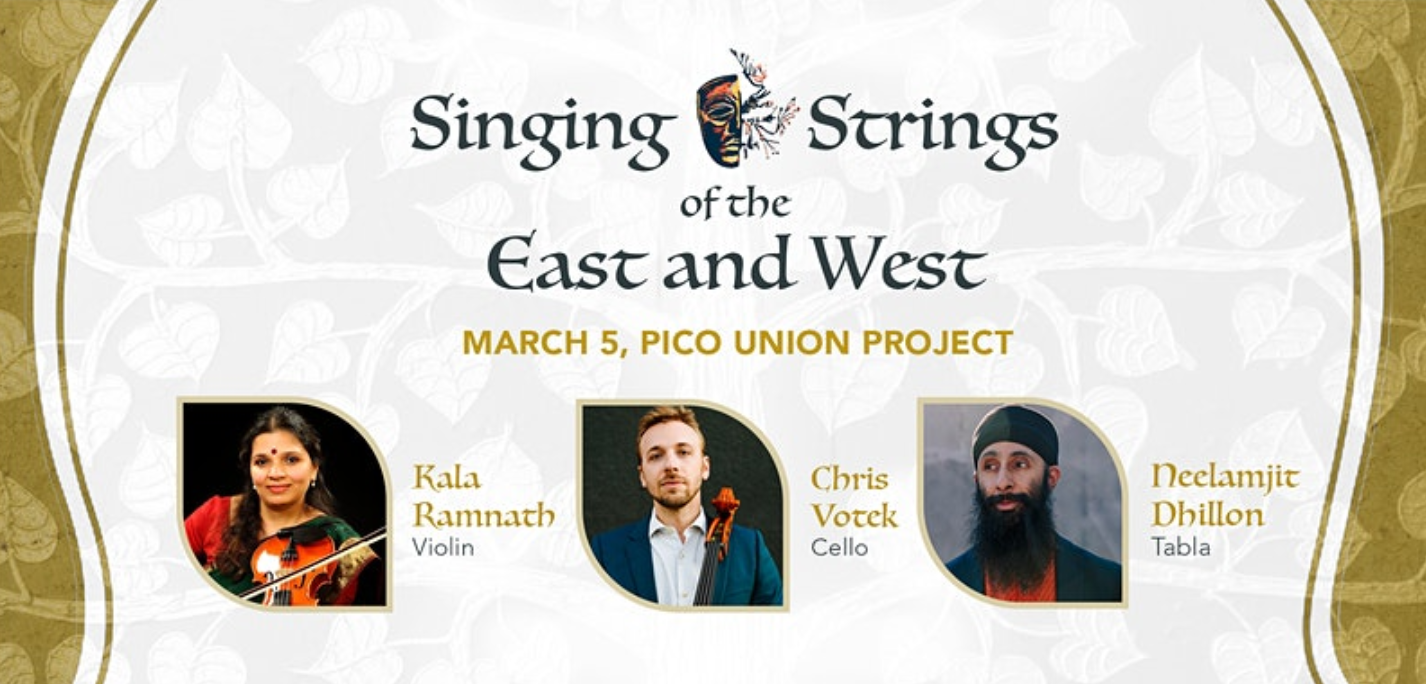 Celebrating the release of Chris Votek's new CD Memories of a Shadow (MicroFest Records) with an intersection of Western and Indian Classical traditions, world renowned violinist Kala Ramnath joins Votek's cello & Neelamjit Dhillon's tabla in exquisite raga, preluding the composer's double cello string Quintet Memories of a Shadow, a superb blending of raga melody and early European polyphony. The program concludes with Sands of Time, an arrangement of Rajasthani folk music created by Chris & Neelamjit for Ustad Zakir Hussain, Kala Ramnath, & the San Francisco Symphony.

"(Kala is) Like an angel in human form. Just to watch her play is an extraordinary thing…She's one of the greatest musicians on the planet." — Terry Riley 

Pico-Union Project, 8pm

1153 Valencia St, Los Angeles, CA 90015
GET TICKETS
The Smudges premiere new work for violin/cello/gamelan by Bill Alves, the MicroFest debut of music by Irish composer Peter Moran, plus music by the creator of the first Just Intonation gamelan, Lou Harrison.

Harvey Mudd College, 7pm 

301 Platt Blvd, Claremont, CA 91711
Visionary Wyschnegradsky – 
Music for four ¼-tone pianos
In 1916 Ivan had a vision: "I saw the great light in full-day," and hence dedicated his life to "awakening in every man the slumbering forces of cosmic consciousness" with his music. He also experienced an "ultrachromatic revelation" that the notes of music were on a continuum and that the received 12 half steps of equal temperament were only isolated locations on an infinite spectrum. He began composing in thirds, sixths, eighths, twelfths of a tone, and famously composing for Music for Four Quarter-Tone Pianos to be performed at the Wende Museum.
Grammy-nominated pianists Vicki Ray & Aron Kallay plus the piano duo Hocket (composer-performers Sarah Gibson & Thomas Kotcheff) recap the 2019 stellar performance of these works at San Francisco's Other Minds festival, led by nationally recognized new music composer/conductor Donald Crockett.
Music at the Wende 
7 p.m.: Museum tour and reception
8 p.m.: Concert
10808 Culver Blvd. 
Culver City, CA 90230
The Grammy Award winning ensemble returns to REDCAT with two world premieres. Following their virtual premiere choreography of Harry Partch's "Castor & Pollux" at REDCAT in June 2021, the "wonderful rollicking" (New York Times) Sarah Swenson Dance returns for a live performance of the entire triptych of Plectra & Percussion Dances, the composer's 45-minute "Evening of Dance Theatre" that has never been choreographed in its entirety since being written 70 years ago. Then the group partners with the "luminous yet corporeal" (Los Angeles Times) Del Sol Quartet in Taylor Brook's One Footed for string quartet and Partch instruments, paying homage to Harry Partch's "One-Footed Bride" chart that explores the expressive qualities of "emotion," "power," and "suspense" inherent in his exquisitely tuned musical universe. 

"Funny, moving, inventive and insanely theatrical… 

an unforgettable performance." —The San Francisco Chronicle

REDCAT, 8:30pm

631 West 2nd Street
Los Angeles, CA 90012
213 237-2800